10th Aniversary
25th of October 2008
The forest association Weilhart (WWGW) has been founded in 1998 by a couple of enthusiastic forest owners in the region of county Braunau, Flachgau, Altötting, Traunstein.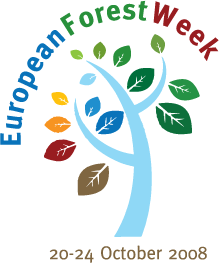 In the meantime more than 100 members have joined the association.
Main objects of the association are:
Near natural forestry
Preservation of natural revegetation by controlling game life stocks
Close cooperation with university in fields of revegetation of natural tree species
FSC certification
Training and education of forest owners
Marketing of forest products
Biomass fuel supply for district heating "microgrids"
The WWGW is the only border crossing forest association in Austria and the only border crossing FSC-certified forest owner group world-wide. Various undertakings have been organized by the WWGW in the past, e.g.:
A big oak tree planting research program
At least one regional forest based event a year since its foundation
The 10th anniversary will be split into two parts:
A "forest road show" will be held within the forests of WWGW members

Mechanized harvesting
Hunting law restrictions by legal authority act
Wood chippers
Automatic fuel wood production
District wood chips heating system
Forest work safety and health
Timber supply rules

Presentations and discussion of recent topics and challenges
Detailed information about the event is in the German of this site available!