Watch our sustainable forest management experience...

Printer-friendly version
Austria is one of the most experienced countries in sustainably managing it's forests (called: Sustainable Forest Management - SFM) - you can watch some of the aspects on how to this below of follow this link to read more about Austrian's SFM experience...
EFI has released a new multimedia video on European forests. Called "European Forests: Central to the World We Live in", it gives an overall picture of Europe's most versatile ecological infrastructure, tracing a path from south to north and from west to east. As we tour around Europe, we ask why forests continue to be so important to each region, even in the 21st century.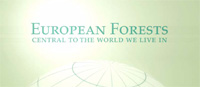 But forests face risks. They face threats caused by climate change, such as drought and storms, and we also have to tread a delicate balancing line between the need for more biomass for energy and maintaining biodiversity.
With our video, we hope to encourage people to work together to overcome the urgent challenges and threats from climate change, and connect research and policy makers to ensure that our forests remain the jewel in the crown of Europe's environment.