PUMA purchases VCS certified REDD forestry credits
London, 25 March 2011: PPR group, a French multinational holding specializing in retail shops and luxury brands, has offset its 2010 global CO2 emissions from PPR's Luxury group, PUMA and PPR's headquarters of 98,729 tons to achieve carbon neutrality in Scopes 1 & 2 of the Greenhouse Gas Protocol and purchased carbon credits from Wildlife Work's leading Reduced Emissions from Deforestation and Degradation(REDD) offsetting project in Kenya. 
The US-based conservation consultancy group Wildlife Works Carbon had in February 2011 become the first entity to earn the world's first carbon offset credits by REDD.  Wildlife Works overlooks forest conservation efforts in the Kasigau corridor in the Rukinga Wildlife Sanctuary, Kenya. According to the project document, the project will cover over 30,000 hectares of the Rukinga Sanctuary. The project has been registered for earning Voluntary Carbon Units (VCUs) for a period of 30 years, from 2005 to 2034. The estimated gross emission reduction are over 7.5 million tons or over 250,000 tons of greenhouse gases per year.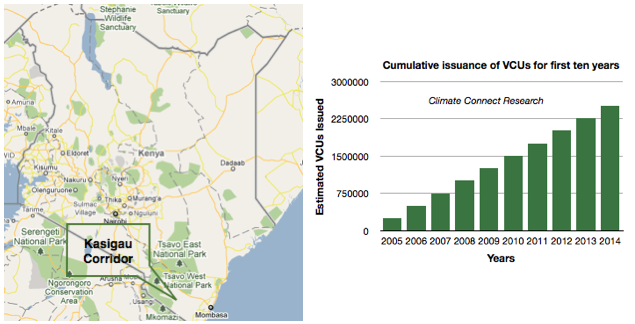 PPR was founded in 1963 by the businessman François Pinault and is now run by his son François-Henri Pinault. It is quoted on Euronext Paris and is a constituent of the CAC 40 index. Other buyers have also been involved in this forestry project. In September 2010, Wildlife Works announced BNP Paribas has the right to purchase 1.25 million tonnes of avoided emissions credits over the next five years from the project. 
International climate change negotiators, at Cancun last December, had given a favorable response to the prospect of including REDD credit scheme in officially sanctioned mechanisms like the Clean Development Mechanism.  
Keywords: PUMA, REDD, purchase, BNP, Kasigau, Kenya, first
To know more about the article, please contact: nitin@climate-connect.co.uk