Six new countries join UN REDD programme
Climate Connect News, London, 14 July 2011: The number of member nations in the UN REDD programme has now reached 35. The programme's policy board approved addition of Ivory Coast, Pakistan, Honduras, Ethiopia, Peru and Mongolia. .
The UN REDD programme works in seven broad areas which include measurement, reporting & verification, engagement of indigenous people, national REDD+ governance and equitable benefit sharing systems.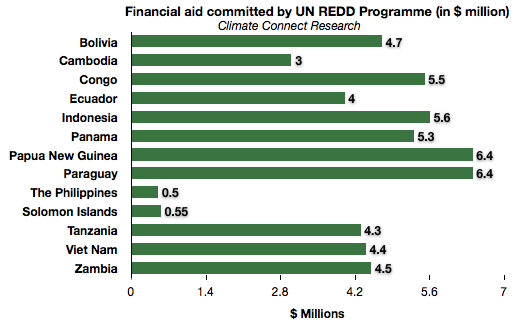 The UN REDD programme is currently offering financial assistance to 13 nations for their national conservation programmes. These include Bolivia, Cambodia, Congo, Indonesia, Ecuador, Panama, The Philippines, Papua New Guinea, Paraguay, Solomon Islands, Tanzania, Vietnam and Zambia. The programme has so far committed $55.15 million in funding for the national programmes in these countries. 
The programme is involved in capacity building measures in several countries. Such measures help developing and poor countries in developing readiness for REDD and REDD+ efforts. The programme is funded through a Multi Donor Trust Fund.
Norway, Denmark, Japan and Spain have contributed to this fund and have deposited a total of almost $97 million since 2008. Norway has been the largest donor with a total contribution of almost $84.5 million.