B.C.'s forest fire season worst in 12 years
The 2010 wildfire season won't be over for weeks, but it has already charred more than 300,000 hectares of B.C. forest, an area larger than Metro Vancouver.
That's more forest burned than any year since 1998, including the 2003 season that saw 33,000 people evacuated in the Okanagan and Thompson regions and 238 homes damaged or destroyed. Some of the fires currently burning are twice as large as the 2003 Okanagan Mountain Park fire, and parts of the B.C. Interior have been so obscured by smoke that the size and number of fires can only be estimated.
The smoke from B.C. fires has spread eastward as far as Manitoba, another indication of the swath of destruction that has swept across mainly remote areas of the province this summer.
Despite the pall of smoke that has hung over much of the province this summer, human carelessness continues. Two new human-caused fires were identified on the weekend, bringing the total fires for this season to more than 1,500.
While most of the major fires have been in the Cariboo and Northwest regions, a fire was discovered on the weekend in the Stave Lake region of the Fraser Valley. Several fires continued to burn on Vancouver Island, with crews in action near Port Alice and Port Renfrew as well as Bella Coola and Powell River on the adjacent coast.
Highway 20 between the Cariboo and Bella Coola was reopened to traffic Monday.
Fire hazard conditions remained high or extreme across much of the province, with northern B.C. experiencing severe drought and some of the lowest river levels ever recorded.
Cooler conditions and a few sprinkles of rain on the weekend eased the severity of fires and allowed forest fire crews and aircraft to make progress containing them.
Several fire evacuation orders in the Cariboo region were downgraded to alerts Monday, allowing residents of several small communities and aboriginal reserves to go home. Most remain on alert status, with medications and other essentials packed so they can leave quickly if conditions deteriorate.
Last week there were concerns that more than 10,000 people in and around Williams Lake might need to be evacuated, as high east winds grounded firefighting aircraft and threatened to push forest fires across the Fraser River. All evacuation alerts for the east side of the river near Williams Lake and McLeese Lake were lifted Monday.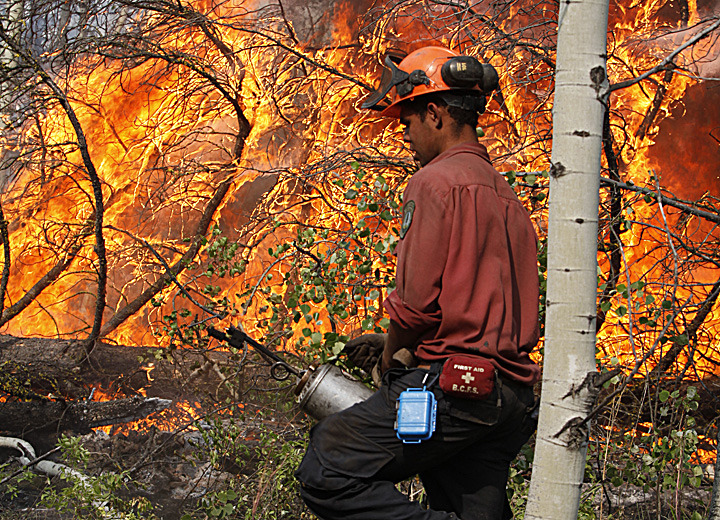 A forest fire crew member uses a torch to create a firebreak on the Meldrum Creek Complex of fires west of Williams Lake. 
B.C. Forest Service