Pine beetle gets blame for Canfor Corp. sawmill closure
The pine beetle is being singled out as the main reason a Quesnel sawmill is shutting down, laying off 180 workers.
Canfor Corp. announced Tuesday that it is curtailing its Quesnel mill Jan. 15 because of slow market demand and what it called in a news release "the economics of running the operation."
Quesnel is in the heart of the dead and dying pine forest and Canfor acknowledged Tuesday that the beetle is one of the economic factors behind the curtailment.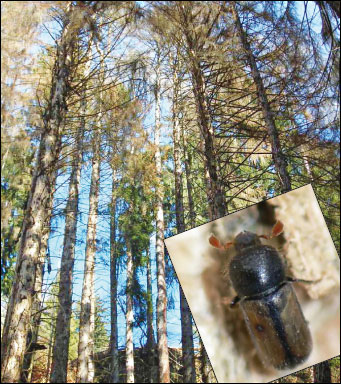 "There are three other factors: The economics of the mill, the sliding price of lumber, and the strong Canadian dollar. And sure, there's the pine beetle," said Canfor spokesman Dave Lefebvre.
The mill is now running on an almost steady diet of pine beetle-killed wood, according to the United Steelworkers union, which represents the 180 employees facing layoff. That's pushing costs up and the end product is lower-grade lumber, said Frank Everitt, president of Local 1-424 of the steelworkers union.
Mills have been adapting to pine beetle-damaged logs by using new technology but this is the first time a major B.C. sawmill has shut down as a result of the beetle. The epidemic has now run its course in central British Columbia, leaving behind dead timber that is rapidly losing its value.
"The logs are overly dry and it is hard to get a good product in the end," said Everitt. "It's low-grade lumber and there's a problem selling the products they produce."
Last September, Forests Minister Pat Bell forecast that up to 12 sawmills could be shut down because of the pine beetle.
He said 24 per cent of the province's current timber harvest is now dead.
Everitt said he expects the Quesnel mill will start up again when prices rise but in the meantime the curtailment is a tough blow to the workers and to the town of Quesnel.
"These are good paying jobs and a scare goes through the community whenever you have a curtailment like this."
Lefebvre termed the closure a market-related curtailment. It's length is dependent on the price of lumber and a lower Canadian dollar. He the company is monitoring the factors behind the closure and noted that Canfor is not running through its log inventory or severing staff positions; a sign, he said, that the mill will return to operations when market conditions improve.