REDD+: Ready to engage private investors?
Published: Nov 2011 - IIED
Details: 4 pages (Briefing) 
The prospect of gaining carbon credits by acquiring land to implement REDD+ has caught the eye of the private sector. In many countries, including Papua New Guinea and Republic of Congo, there are reports of a carbon rush. In Mozambique, private investors have expressed an interest in acquiring more than 22 per cent of the country's land for REDD+. But Mozambique, like many developing countries, is still in the early stages of preparing a REDD+ strategy. This briefing warns that encouraging private sector involvement before the country has the right policies and institutions in place to safeguard local environments and people risks undermining the potential of REDD+ for sustainable development.
IISD: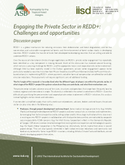 REDD+ is a global mechanism for reducing emissions from deforestation and forest degradation, and for the conservation and sustainable management of forests and the enhancement of forest carbon stocks in developing countries. REDD+ enables the transfer of funds from developed to developing countries that are willing and able to undertake REDD+ actions. Over the course of international climate change negotiations on REDD+, private sector engagement has repeatedly been identified as a key component in moving forward. Much of this discussion has revolved around financing, which remains a pressing challenge for REDD+, and the appropriate means and scope of private sector involvement. Although little has been explicitly stated in the Durban agreements, private sector engagement appears to be particularly needed as countries transition from Phase I (readiness) and Phase II (demonstration) to Phase III (resultsbased actions) in implementing REDD+, where payments and other forms of compensation are offered for verifiable emission reductions. These payments will require significant sums of additional funding.