Suriname follows Guyana in climate change policy making
PARAMARIBO— Neighbouring Suriname is following in Guyana's footsteps by formulating policies to counter the impact of Climate Change.
A Climate Compatible Development Agency (CCDA) has been established by the Dutch-speaking country to help formulate a more structured approach to climate change matters.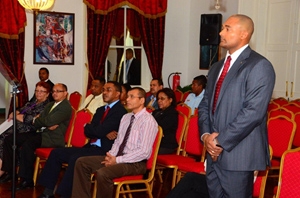 Director John Goedschalk © by Demerara Waves
"We owe it to our children to prepare ourselves for the effects climate change will have on our country," President Desi Bouterse was quoted by the Suriname-based online news entity, DevSur.
"Our task is to consolidate all existing climate change efforts," explains Agency Director John Goedschalk, a US trained economist who says that since returning to his native Suriname in 2008 he looked on helplessly while knowing that there is international funding available to prepare Suriname for climate change.
"By implementing the Agency, Government signals to the world that it's serious about facing climate change. The establishment of the Climate Compatible Development Agency puts us in the fraternity of developing countries that are signaling their seriousness regarding adaptation. "
"Despite the fact that we do not contribute to climate change we stand to be impacted heavily by its effects. Our entire economic zone is located within our coastal areas, so when sea level rises we stand to lose a whole lot. That is why it's important that we look with a certain measure of structure at how we can prepare Suriname better for climate change," Goedschalk says, adding that this does not have to be at Suriname's cost.
He explained that as per the Kyoto Protocol, Suriname is a Non-Annex I country and as such not required to reduce its levels of emission of greenhouse gasses. "But our classification gives us access to funding from international agencies to arm us," he says, listing the Adaptation Fund of the Kyoto climate change Protocol as one of the funds that he will try to secure funding from. "This fund was established within the framework of the Kyoto Protocol, specifically to finance concrete adaptation projects and programs in developing countries. We're signatories to this protocol. Many other developing countries have secured funding from these funds already; we're getting in line now and we don't have to reinvent the wheel when we're doing this," said Goedschalk.
He said one of his first goals is to accelerate the first carbon assessment program in Suriname. "We will introduce a strategy that is climate change compatible and goes parallel with Government's development initiatives," he said. His eyes are set for instance securing funding under the REDD+ program, designed to use financial incentives to reduce the emissions of greenhouse gases from deforestation and forest degradation.
Goedschalk: "We're in a unique position in Suriname. We are under threat of the effects of climate change, while we're not a contributor to the causes of climate change and our Amazon rainforests make us one of the greener countries in the world. The latter also gives us access to REDD+ funding, but so far we have not executed any project of the sort yet either." He explained that in that regard it's also important to conduct a carbon assessment to measure Suriname's own impact on its environmental assessment. "It's a good starting point."
Guyana has established the Office of Climate Change that leads the country's formulation and implementation of its Low Carbon Development Strategy (LCDS). Under the LCDS, Norway is expected to pay Guyana US$250 million for keeping its rainforest intact to absorb carbon emissions that cause global warming.
Guyana intends to use the money to help finance the construction of the Amaila hydropower plant, reimburse government for solar panels being bought for Amerindian communities, finance the demarcation of Amerindian lands and fund community development projects.